Why Optometry Website Design?
In this time and age, people no longer refer to the Yellow Pages or to newspapers when they need to look for a business that could help them with whatever sort of help that they need. Whether they need a service to come clean their house, drive them places or even pick up their groceries for them, they do not go around asking people for businesses providing that service, they look it up online and choose from the various options listed online. Thus, if anyone wants their business to survive and eventually thrive in this digital age, the best way forward would be the creation of their very own website. In this blog we will learn all about optometry website design.
Why Optometrists Need Their Own Website?
Most doctors, such as cardiologists and neurologists rarely have a private practice, therefore all the information regarding these doctors is often available on the hospital's website. But, then there are some doctors that usually run their own medical practice rather than associating themselves with a big hospital. These doctors include, and may not be limited to optometrists, gynaecologists, dentists, etc. In such situations, the patients seeking the care of such doctors more often than not find themselves in a bind. The only way for a patient to get in touch with a doctor this way is through phone and that is also only available during office hours. Furthermore, the only way these people come to know of these doctors and their practices by a family friend or an acquaintance, which ascertains the fact that these doctors do not get a lot of business on their private practice.
While a gynaecologist and a dentist can build up a clientele because of the nature of the field, getting potential patients to walk through the door is a whole lot harder for optometrists.
Click To Tweet
While a gynaecologist and a dentist can build up a clientele because of the nature of the field, getting potential patients to walk through the door is a whole lot harder for optometrists.
Problems Faced by Optometrists
1- Odd Office Hours
Optometrists are, by far, one of those medical professionals that need to take a leap, not a step, into the digital age. Eye care, especially for a person who is frightened by the idea of a pair of spectacles ruining their look, is something people put off for as long as humanly possible. Add to the very specific office hours that optometrists tend to keep and how inaccessible they are when they are not in the office just adds to their procrastinating behavior.
2- Inaccessibility
Another reason why optometrists do not see as much business as they probably should is because nobody knows about them. A doctor's whereabouts and their accessibility is their bread and butter. While it is true that people may not have a medical emergency that requires the assistance of an optometrists, but that doesn't mean that they do not need their assistance at all. What optometrists often fail to understand is the fact that the reason people are not walking through their door is because they do not know their location or because they do not even know that they exist at all. This is a serious problem for them since the worst case scenario can most probably result in the demise of their business on a rather permanent level.
3- Expertise
Another reason for the lack of business an optometrist sees on a semi-regular basis is because people do not know their expertise and their skill level. With the number of quacks in the world increasing on an alarming rate, doctors with their private practices have lost the trust of the patients. This fact is especially true when the patients have never seen the doctor before and no one in their circle of trust has anything good to say about the doctor. Thus, this lack of trustable individuals and their inability to show their expertise and their skill level is also a rather drastic problem.
How Can These Problems Be Dealt With?
Having mentioned the problems up there, it would certainly be amazing if we had the solution to those problems too. Unfortunately, that is not the case here. A doctor cannot write his or her skills and the positive response of the people he has treated over the years on a board outside their offices. Not only is it a very crass thing to do, but it is also rather unprofessional and throws all sorts of work etiquettes outside the window.
Additionally, while they can always use advertising in the form of flyers, banner, brochures and newspaper ads to get the word out about their business and enlist their office hours as well as address and such but how many people is it going to reach. To add to it, how many people are going to believe the things that are on there.
Thus, you need to do just the thing that almost every single business out there does to stay relevant and survive – you need a website.
Why A Website?
Doctors need a website for several different reasons. It goes without saying that one of the most important reason an optometrist or any other doctor out there needs a website because it is undeniably the most powerful tool there is. When the patients see that their doctor has a completely descriptive website. A website isn't only a good thing for the current customers but it can also act as a tool to attract new patients to the facility, educate patients and increase office productivity.
This is where we come in. At Situdio, we provide a complete program for doctors so they can realize all the good that can come from making their own website. Our blog on about how to have one of the best optometry websites can help you understand about the elements your website must have.
The plan features the entire development of the website which consists of patient awareness and website promotion. Millions of doctors out there are witnessing great results due to our services.
People like to see medical information that they can trust.
Most people searching for authentic medical information turn to these sites.
Many patients use the internet to search the best physicians in their area.
13 Things About Optometry Website Design…
A website can be able to answer some of the most FAQs about certain topics and the website can be the best place for the patients to find the answers. We have written in great detail about when your optometry website need changes. But for now lets check out things every optometry website must have.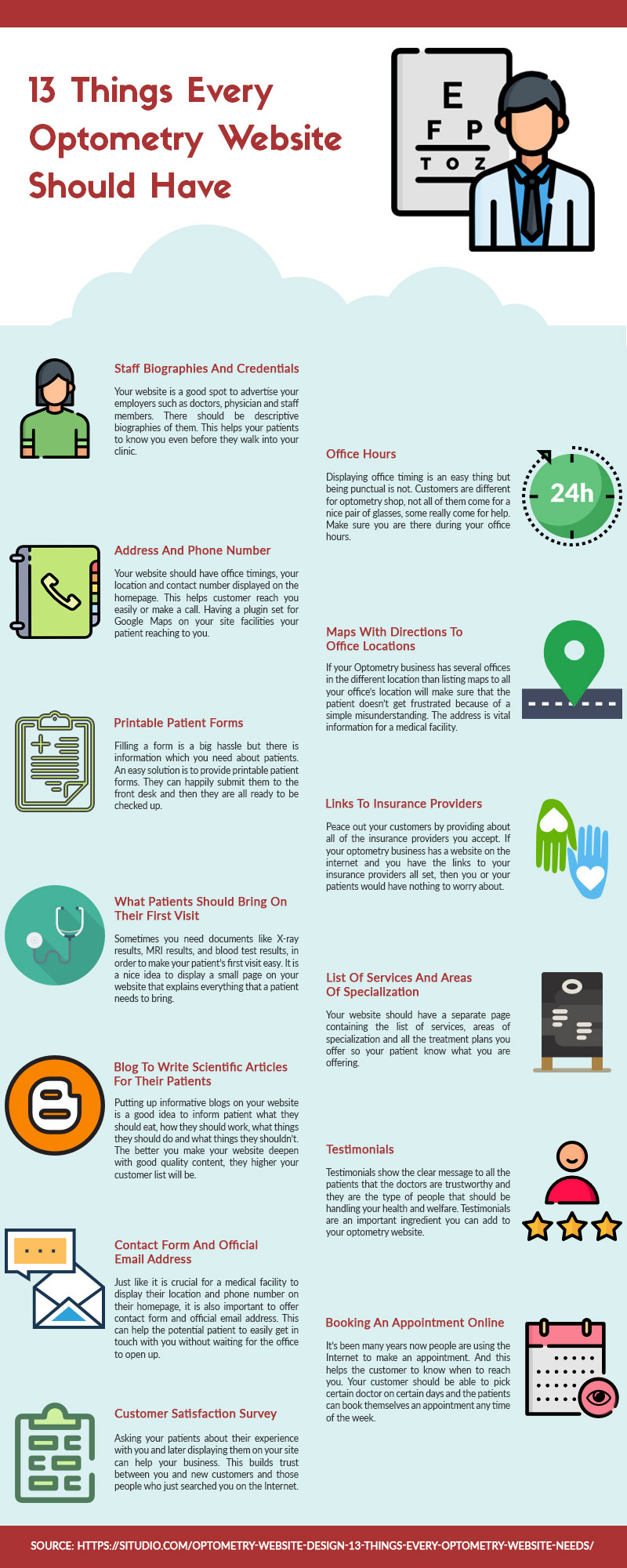 1- Staff Biographies And Credentials
A website is a perfect place to advertise all of your doctors, physicians and staff members. They might even request a certain one of your associates for their treatment based on that doctor's qualifications and certifications. Thus, listing staff biographies can increase the percentage of patients that visit the treatment facility after looking at the website.
2- Office Hours
Ever had the coincidence of visiting a certain clothing shop only to find that it's closed? Well, that can also happen with patients. That is why you need to make sure that the customer's know exactly when your facility is open. The website can be used as the perfect medium to advertise your office hours. So, make sure that your office hours are accurate and you're there for the patients when you claim to be.
3- Address And Phone Number
The address and phone number are just as important as the office hours. An address will make sure that they can easily get to your facility and they won't have to ask around for your facility in order to get there. Your website can demonstrate your address on the homepage.
Some medical websites also have a back link to Google Maps so the patients can reach the facility even if they're new in town. The phone number is important because often a patient might have some queries about your treatment plans.
Some medical websites also have a back link to Google Maps so the patients can reach the facility even if they're new in town. The phone number is important because often a patient might have some queries about your treatment plans.
4- Maps With Directions To Office Locations
We already discussed in the above paragraph that addresses can be vital for medical facilities. Most predicaments have various offices at different locations, they need to make sure that their offices are on their website. It is not good for patients to walk into a medical practice and fill out a long form.
6- Links To Insurance Providers
Sometimes it gets extremely hard for patients to know if you support their Insurance Provider. Thus, if your practice has a website and has you have the links to insurance providers all set. So patients would have nothing to worry about.
7- Information About What Patients Should Bring On Their First Visit
Sometimes patients can be a little doubtful about what they want to bring on their first visit. Doctors pass on patient files to the new physicians just so they know everything about the patient before diagnosing them. But, sometimes the patient also has to bring some documents like X-ray results, MRI results and blood test results. So, a small page on your website that explains everything that a patient needs to bring can be really helpful. It can save the patient from the hassle of going back and getting the documents. If you want to learn about how to keep the audience engaged you can by clicking the link.
8- List Of Services And Areas Of Specialization
A medical website should do is explain their areas of expertise and all the treatment plans they offer. The website should have separate web pages to explain different treatment programs descriptively. This way the patients will know exactly what they're getting into before they visit your facilities.
9- Blog To Write Scientific Articles For Their Patients
Patient awareness should be a top priority of every medical center. Curing an illness is one thing, teaching the patient to live with it is a completely different scenario.
Click To Tweet
Patient awareness should be a top priority of every medical center. Curing an illness is one thing, teaching the patient to live with it is a completely different scenario. Often times, patients come in with diseases that could occur again if the patient repeats a certain activity. You need to make sure that the patient knows exactly what to do to make sure that doesn't happen. The website can be the perfect medium to do that because you could put up informative blogs. That could help the patient know what they should eat, work, what things they should do and not. This might be a small effort but it can seriously life saving. Marketing your optometry brand in a right way is helpful for your optometry website to increase customers
10- Testimonials
Developing a certain amount of trust on their doctors is important for every patient. Similarly, it is vital for every medical center gains the trust of their customers. Testimonials can be a perfect way to do that. Testimonials show the patients that people with the same diseases. This message to all the patients that the doctors are trustworthy. And they are the type of people that want your well-being.
11- Contact Form And Official Email Address
Another thing that can be of great help to a patient is if your contact form and official email address. With them in place, an existing or a potential patient can easily get in touch with you. Without waiting for offices to open up or for you to pick up the phone to get their query answered.
12- Booking An Appointment Online
This is a lifesaver to set up a page online where your patients can book themselves an appointment. All you have to do is list openings with a certain doctor on certain days. And the patients can book themselves an appointment any time of the week.
13- Customer Satisfaction Survey
Customer satisfaction is important for every company regardless of the industry. If a company cannot satisfy customers, then they should try to find out where they fall short.
Click To Tweet
Customer Satisfaction Forms and Surveys are the best way to do that. You can ask a patient about their experience in your facility. Now, you don't want to bother the patients with long forms just after they're starting off their new life. They need some time. That is why you should have the surveys on your website. This way, when they're ready, they can go ahead and rate your services just as they experienced them.
The Bottom Line
So there you have it. Now you know how to improve your business and owning your very own website. All you have to do is call Situdio and our superior optometry website design skills. Just don't forget to give us a call if you feel like you are ready to enter the digital age.