This article is for authors and writers who want to revamp their online presence. Before we begin with the list of best author websites to inspire you, you need to know why you need an author website? The first step in online marketing for any profession requires a website.
I am sure you have other ways to sell your work but in this modern age, a website brings more charm. With a website, you can display your works like books, eBooks, blogs, and the best part is, you create a portfolio of yourself.
The Purpose of this Article
In this article, we will see some nicely done author websites. These websites can provide inspiration and guidelines to make the best author websites. By the way, to learn how to create, manage and market your author website, you have to read more articles on our blog.
These are the things your author site must have no matter what genre or type of writer you are.
Your Website's Landing Page Should
Include a list of your published work (books, novels, eBooks, articles etc)
Promptly shows upcoming and new releases
Have a separate page about yourself
Provide a way to contact you or hire you.
Include links to your social media accounts.
Easy to navigate
A blog to showcase your personality and/or writing process
Has a unique, clean and eye-catching design
Must run perfectly on Mobile and PC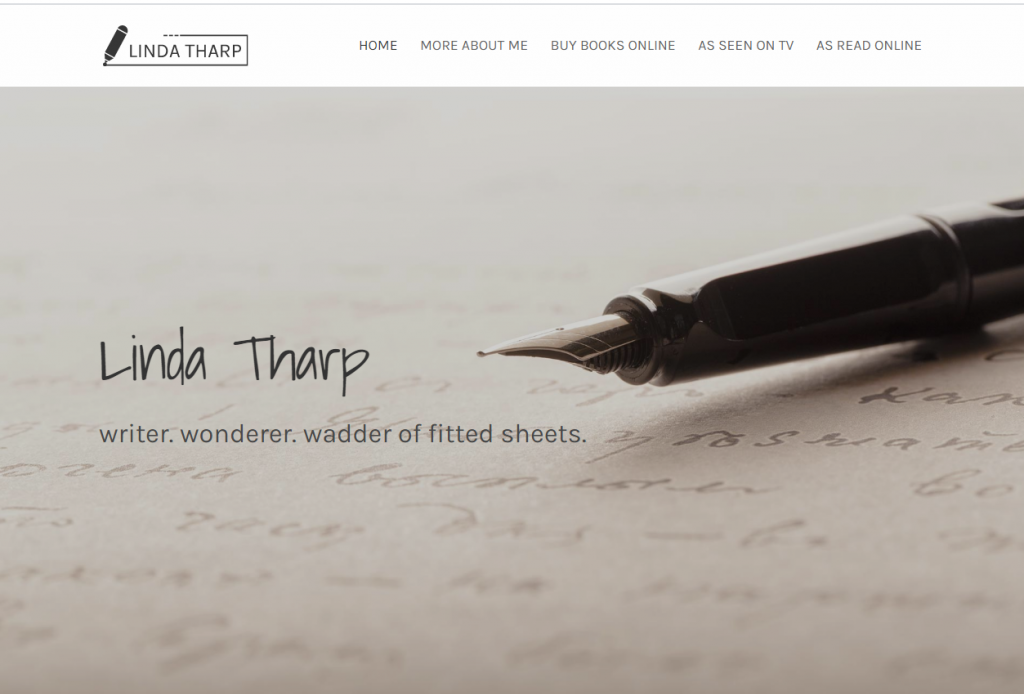 Linda Tharp's website is the best example of a minimal author's website. Unlike other writers' websites, Linda's website shows the author's bio before going into book links. The landing page is composed of a still image with the author's names, and then we see the author's bio and in the end, we see her works. This type of author website is best for authors who have published more than one book and want to increase their fan base.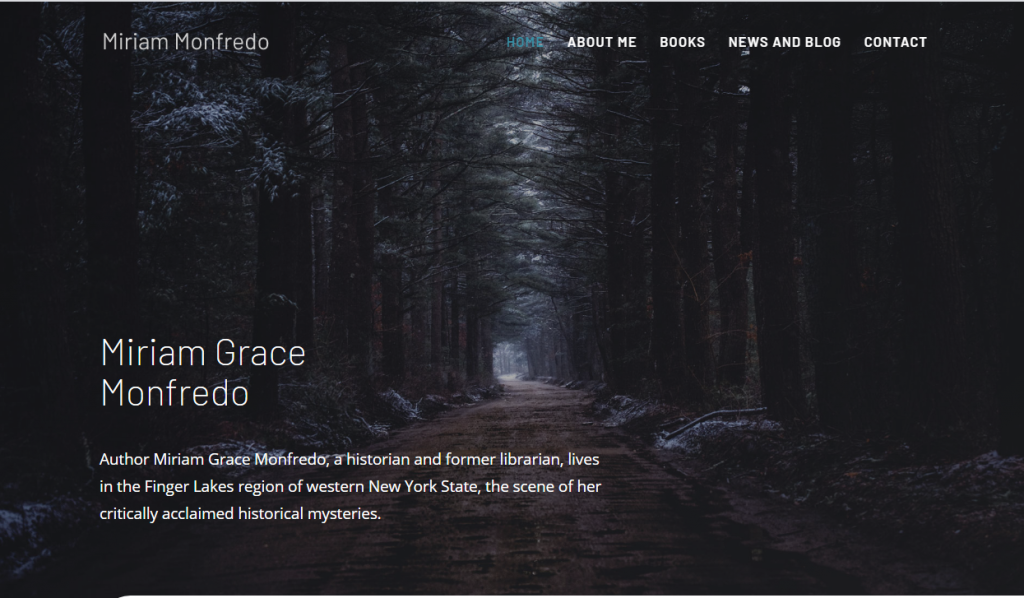 The first look on Miriam Monfredo's website shows a picture of a dark forest with mist surrounding the area. This gives a sense of mystery to the reader and tells the writing style of the author. The first image on the landing page is the most important. It can be a slider but most often we see a still image. Marketing experts' advice for authors is to set the mood of the website according to their writing style.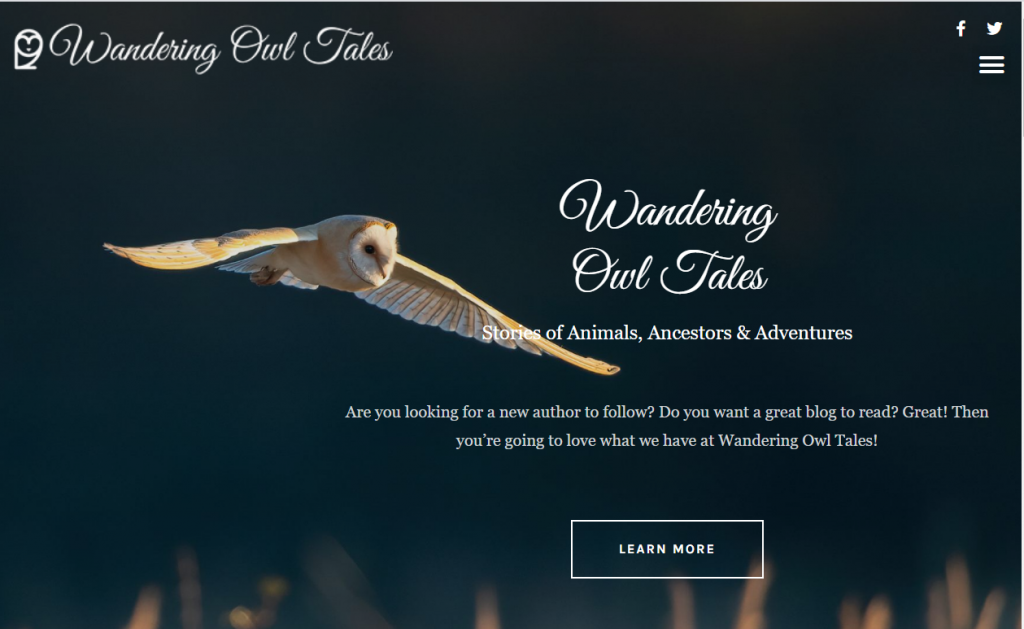 Owl tales website is created by author Marsha Arzberger who writes stories of animals, ancestors, and adventures. The mood of the website is bright and natural. It conceals that author's work is related to the natural world. Marsha's website displays a cool logo which is not common in author websites.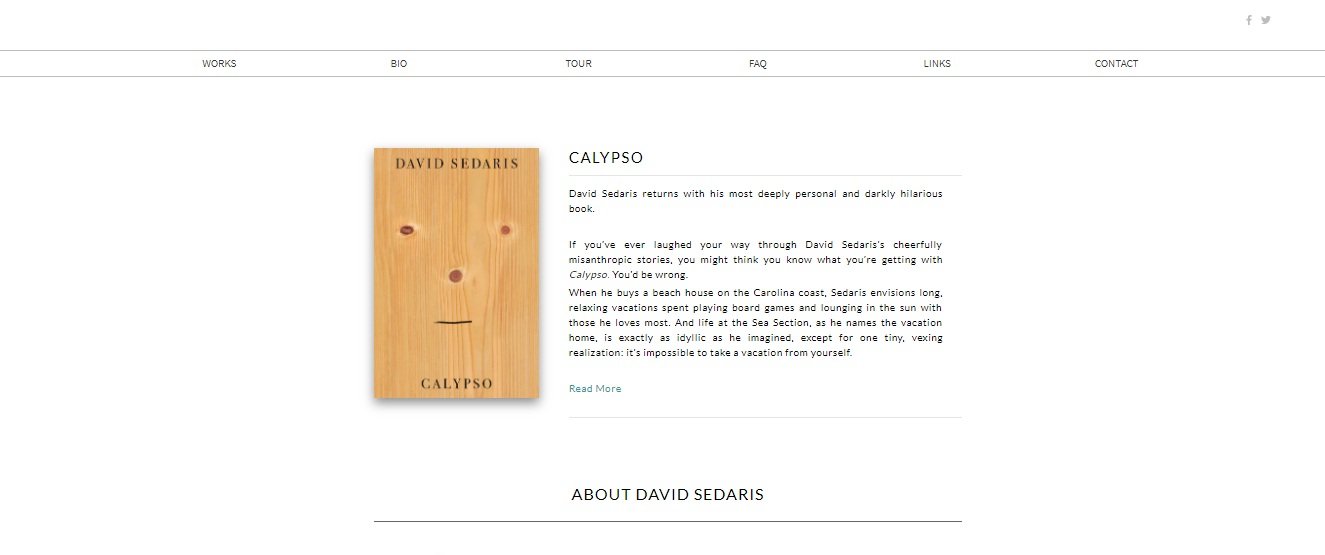 People don't just come to your site to read your bio. They want to see what the author is up to. Putting your works in the center with bold design can show off your work. Furthermore, David's website is clean, elegant and simple.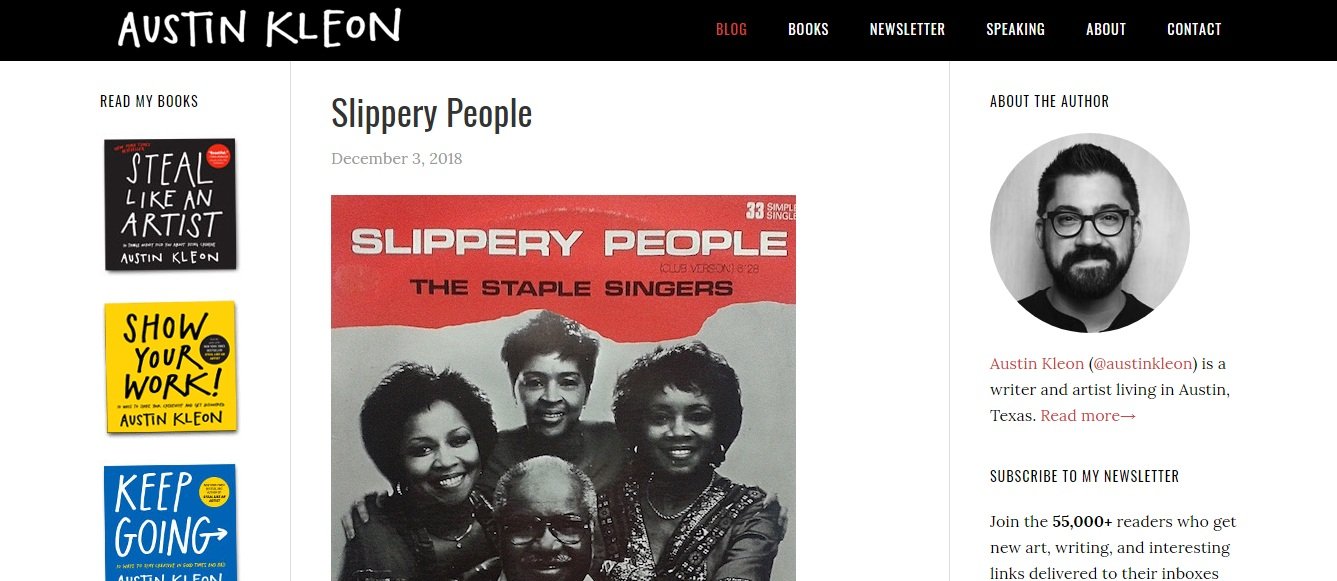 A wise internet man once said, don't show your social media links on your landing page if you don't post much. This website is a cool way of showoff an author's work. It is modern, abstract and colorful. It is among best author websites.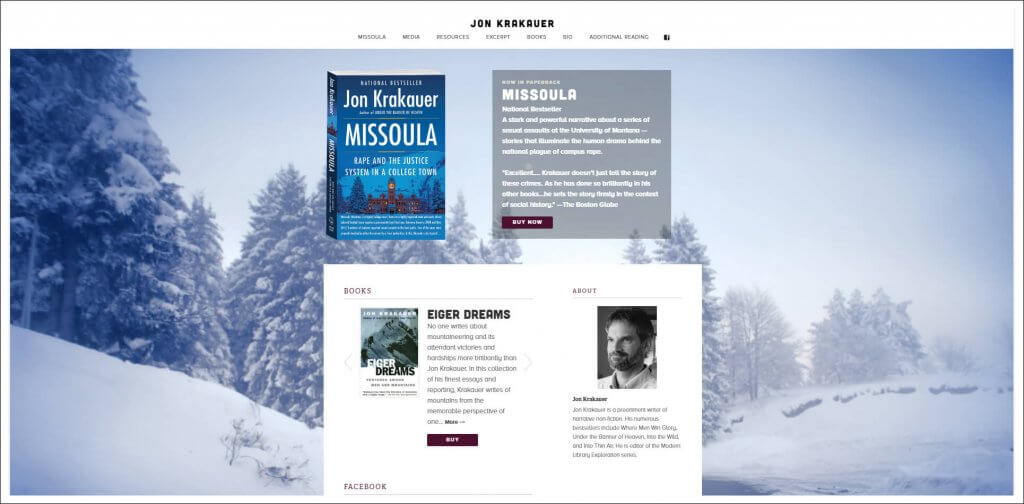 This site is very pleasant to look at. Designers agree that if used correctly, negative space is your friend. Something less is better, just like we see here. Furthermore, it is a great inspiration site and eye-catching.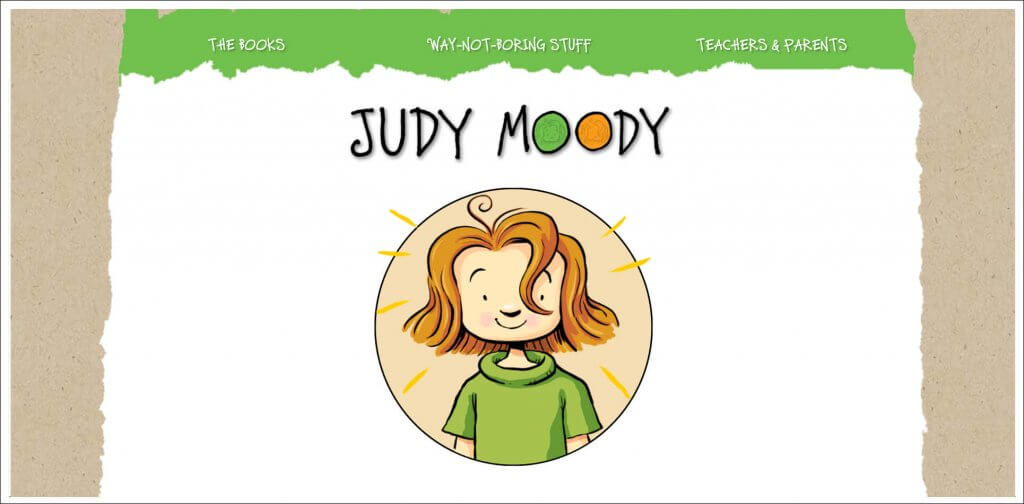 With a first glance, the website looks like it is for children and that is true somehow. A landing page should speak about the author so the readers with the taste stay longer. Overall this website is modern, colorful and good to look at.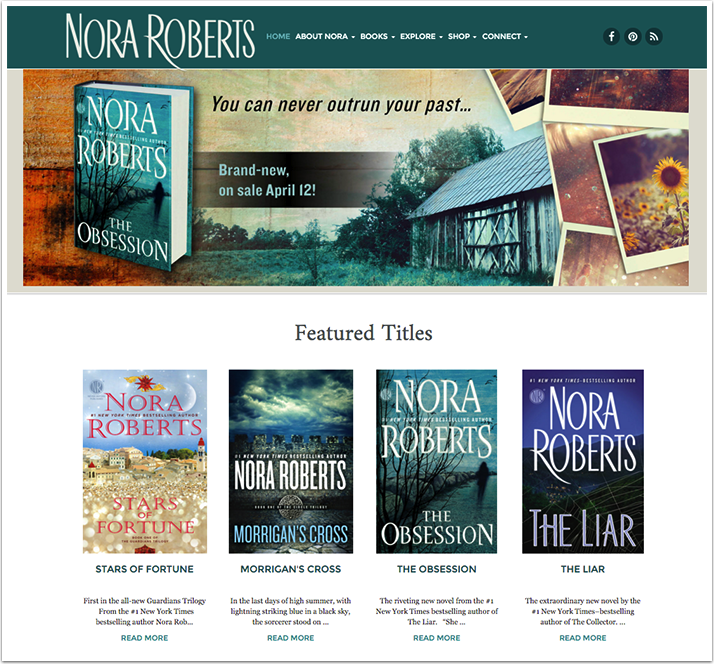 Nora is a writer of famous novels 'The Obsession and the liar. Her website is simple yet bold and elegant. Very few colors used to give focus on the featured books which are placed in the center. Furthermore, the top area shows pages including blog and shop.
Light and refreshing colors always work great for professional websites. On a landing page, you can see the bestseller banner and a sales advert. The thing to notice here is 'where to buy area' at the middle. This helps readers to buy author's books on online stores with one click.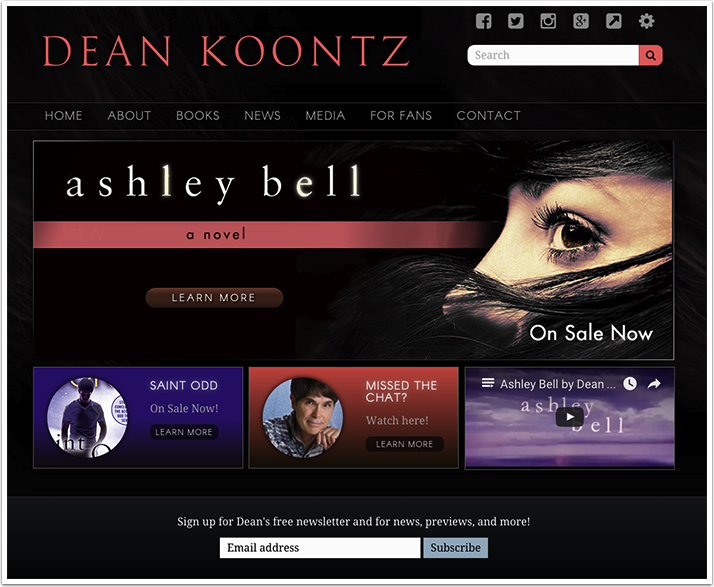 Black works great for professional websites. Similar to teens holme's website, you can see the author's latest work at the top in a form of sales banner. You can also use videos and other books on a slider below.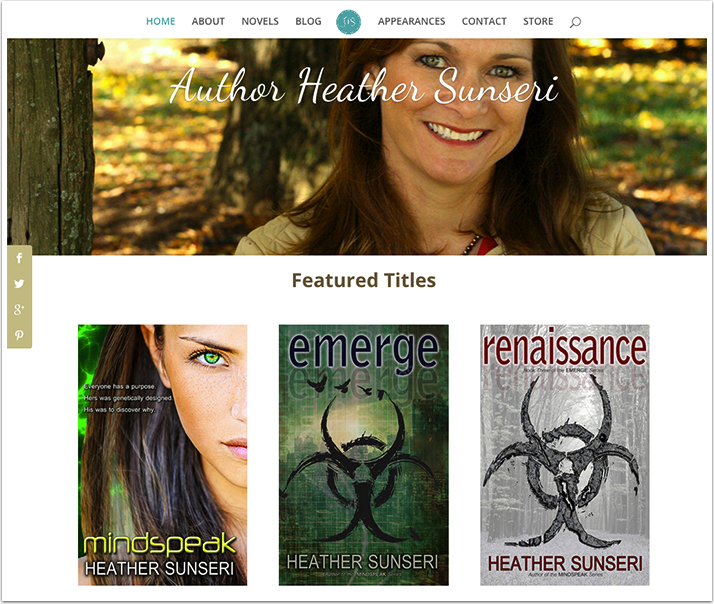 The landing page of your author website must contain everything about you as an author. Here we can see the still banner with author's picture along with bestselling work below.
It is really a nicely done website from artwork to colors included. You can make your landing page a mosaic of your work. We can see here, a clean slider with bestselling novel and author's bio. It is simple, clean and modern.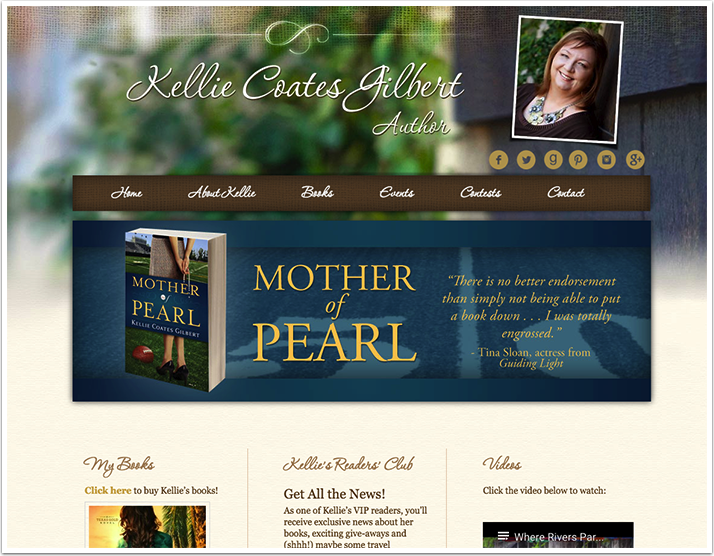 Who says italic fonts don't work well on website's landing pages? Kellie's website can be a good inspiration for authors. The middle section can display your best works and the rest can be stowed underneath. Personally, I loved the idea of using a blurred background picture, it gives focus to the content.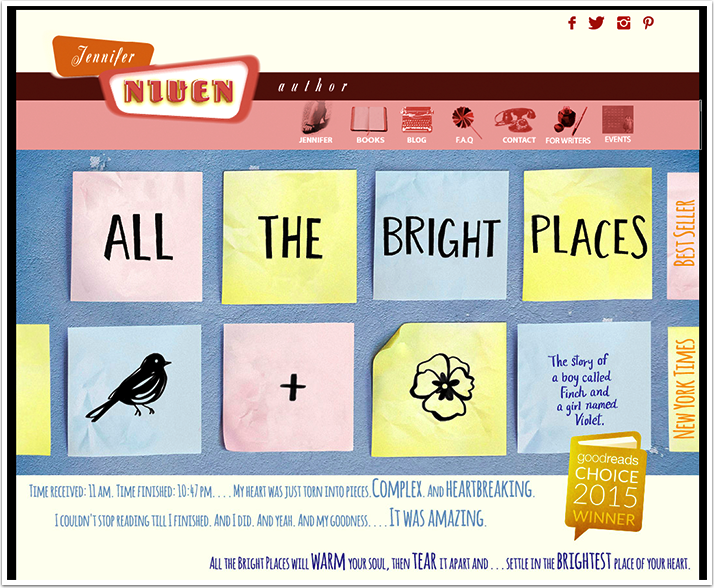 This is really a cool idea for an author website. A banner in middle is catching the viewer's attention and author's bio and info is nicely displayed. This author site can easily be made with any page builder. Perfect for female authors who want to have their site a feminine look.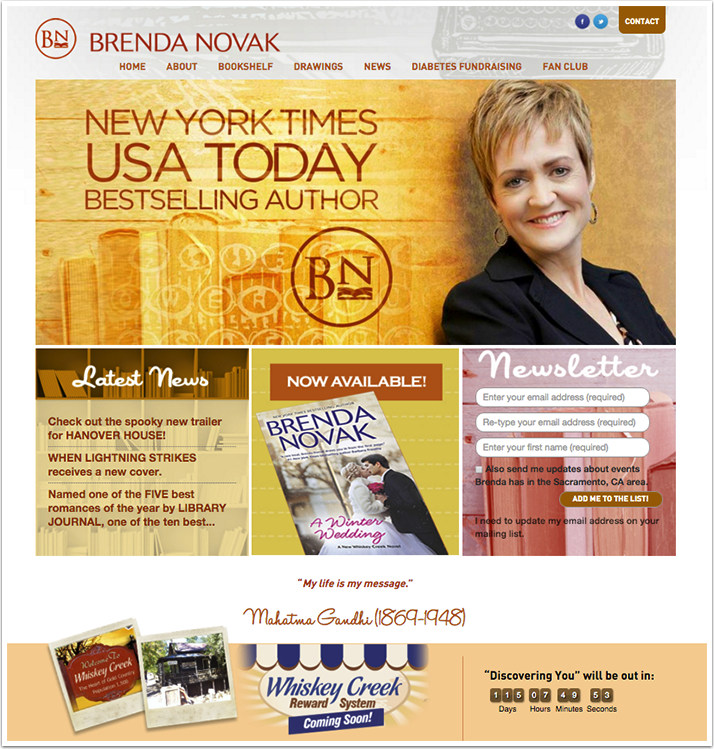 It is not necessary to showcase your work before your bio. Here on Brenda's website, you can see her picture and the 'New York time's bestselling author badge on top. These types of sites work well for the author who wants to make their site a portfolio and sell books at the same time.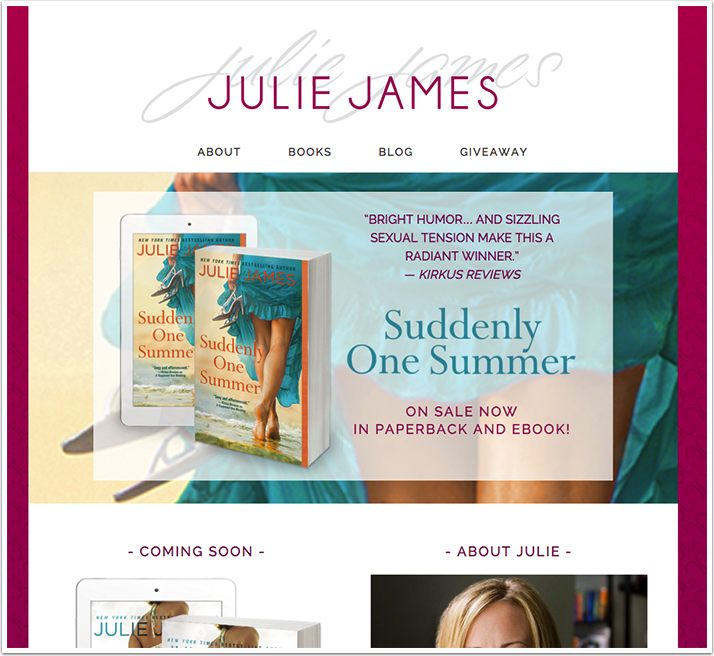 Yes, it does look catchy and takes readers eyes to the middle section. The thing that makes it different from other author's sites is the giveaway and coming soon section. Authors can show their fans what they are working on and giveaways page can help you sell stuff and attract fans.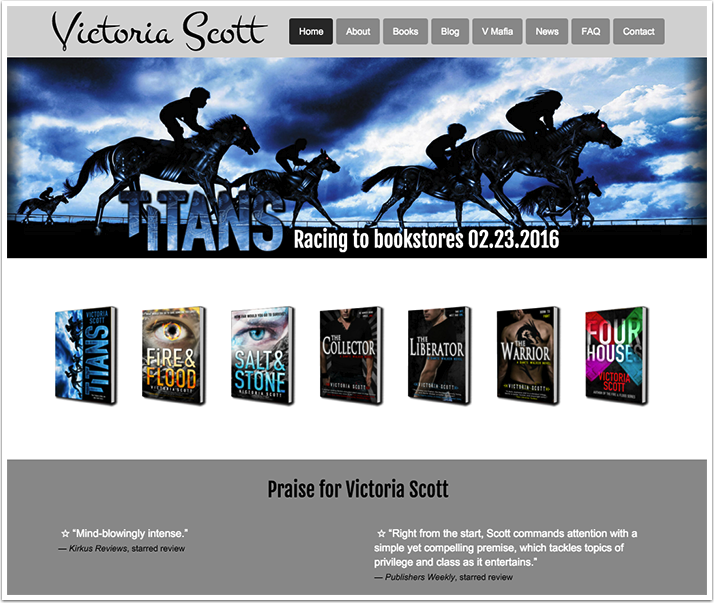 This website is a great example for those who want less design and more information. A simple white background with all the essential pages links at the top. White, black and grey color works well together.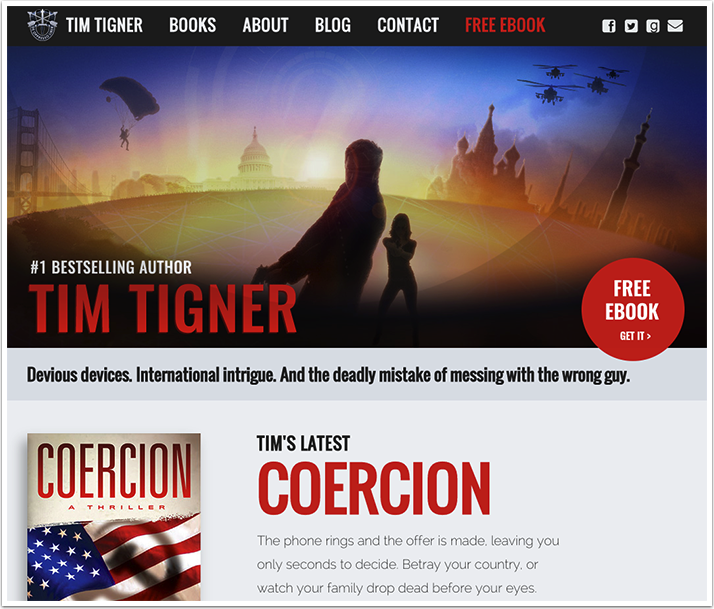 Again we see the plain white background with all the necessary author stuff on top. The thing that is different is the free eBook section. If you are giving something for free, make sure to mention it as this website did. This is great for fans who want to read and buy it.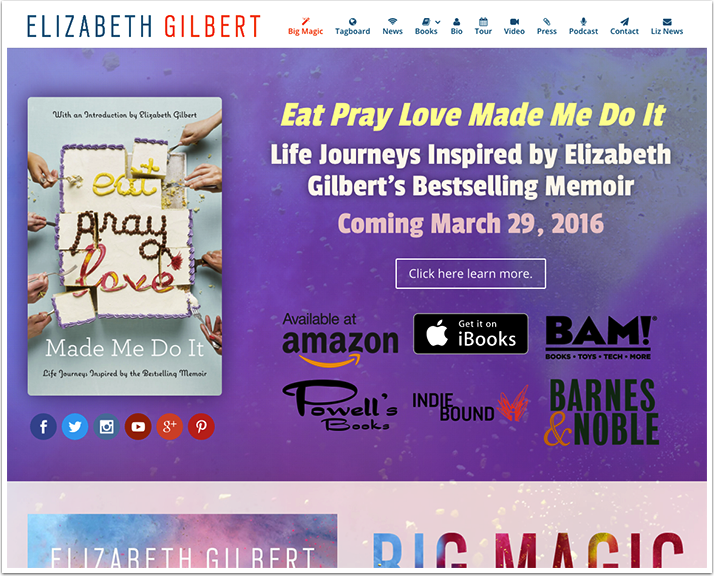 There is a saying, big always work. This site can provide inspiration for authors who have more things to share and sell on the internet. This is a cool way to show a high banner/slider under the pages section with thin fonts.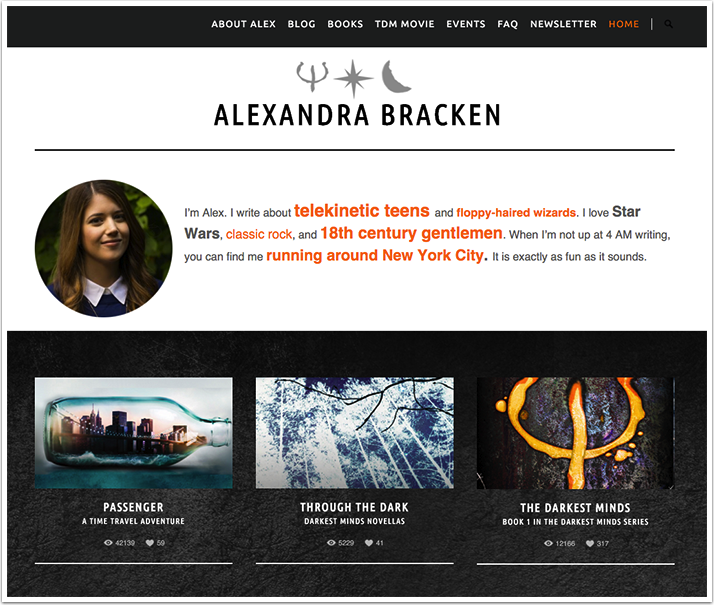 As an author, sometimes you want to showcase your bio first then your works. This website shows how you can do it. The only thing missing here are share buttons which you can easily add as a plugin on the side.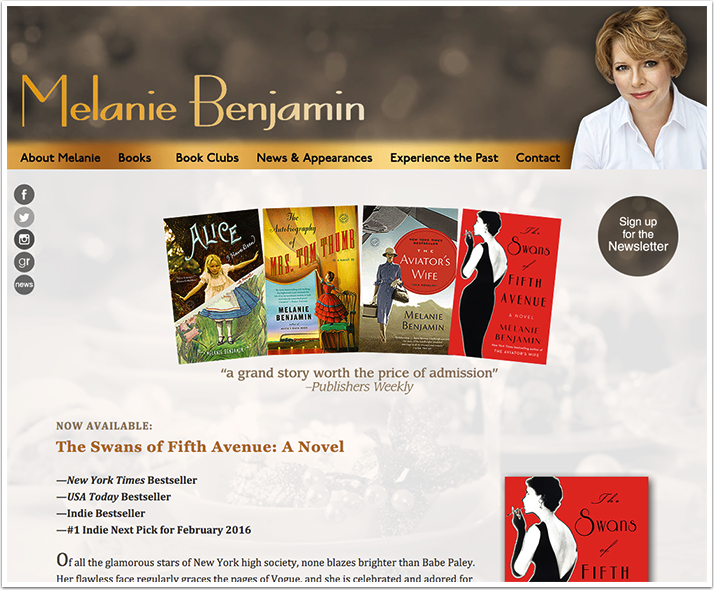 Gold colors work perfectly with the dark background. This site shows how authors can show their bestselling work, social media, bio and advertisement on one landing page.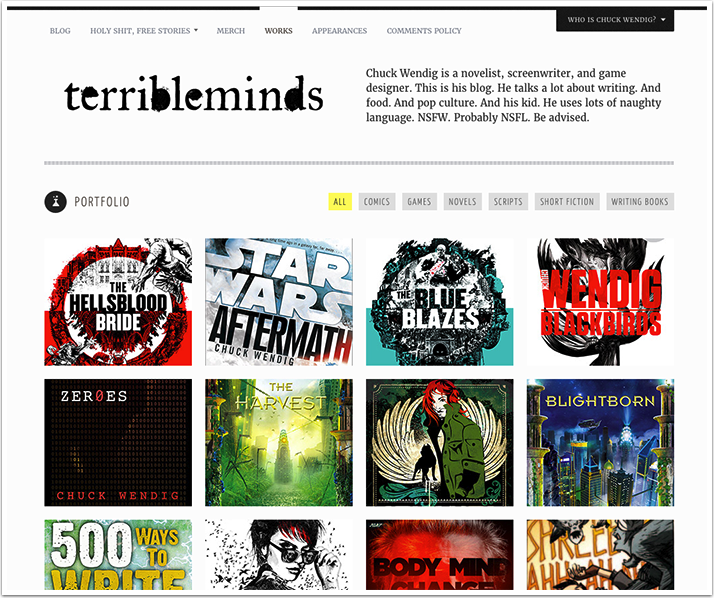 Chuck's site is my personal favorite. If you have a lot of things to show, this site can give a great inspiration for your author website. The landing page is a portfolio and a collection of author's artwork. This is a perfect comparison of black and white with colorful artwork. This website is easy to design and look impressive.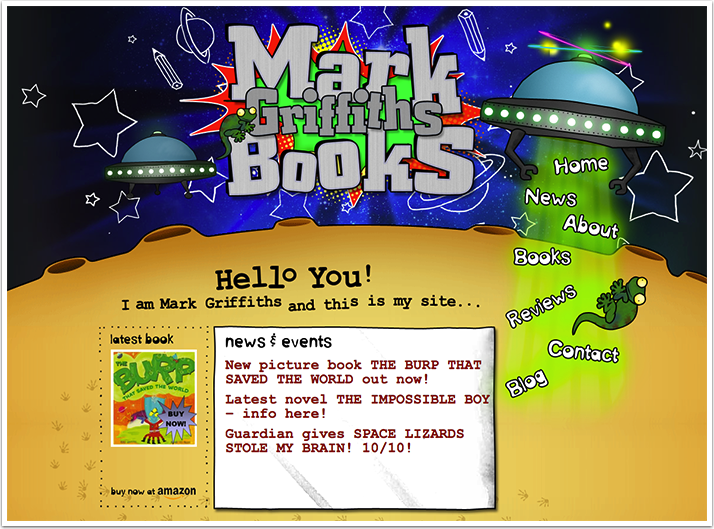 This charming site can provide inspiration to authors who write for kids. This website shows all of the important links and author's bio in an artistic way.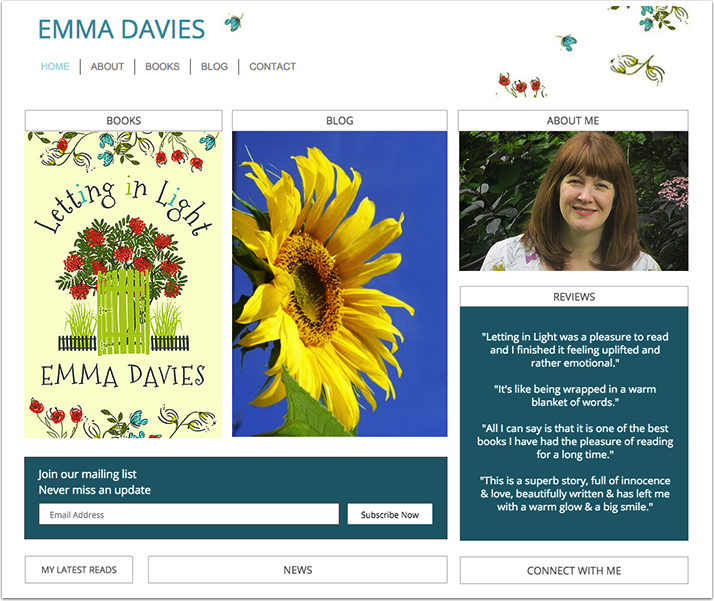 Emma's website artwork reveals something about the author's personal taste. This clean website shows website pages in thumbnail form, which look good. The thing to notice here is the reviews section on the right. This gives the visitor to see what other people are saying about the author. And there is a link to join the mailing list at the bottom to receive updates on email. Overall this author site is ideal for female writers who like it clean and bold.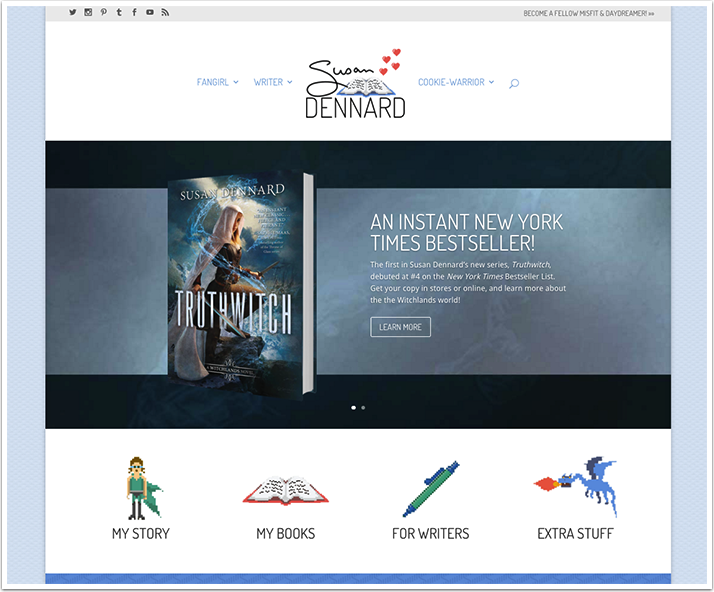 This is among best author websites. You can place pages links anywhere on your site as long they are visible and don't block the main content. Just like this website by Susan Denard, the main content is the banner in the middle.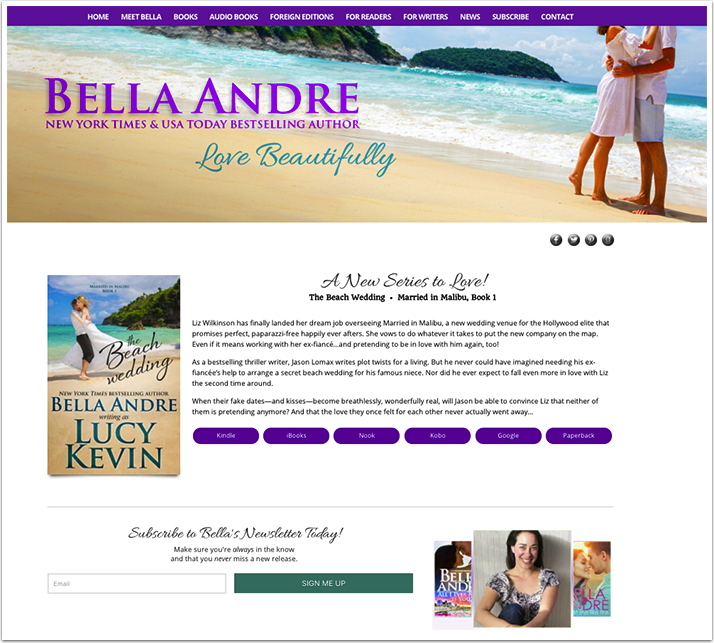 You don't always need a high tech logo to make a site beautiful. A normal elegant font with the website or the author name is enough to make the site functional. Instead of using banners, we see here Bella used her latest novel and its summary.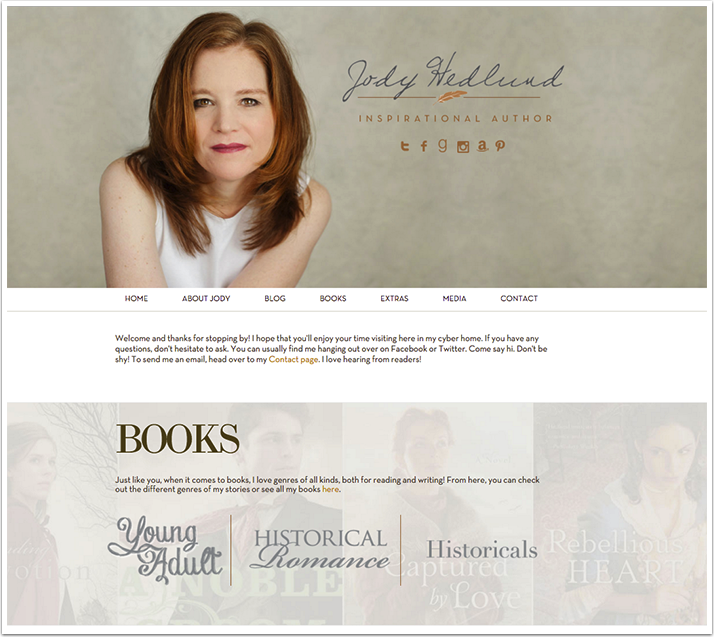 She is my sister's favorite writers and I personally think this site can provide inspiration to all authors. She used blurred banners with italic fonts with a nice and clean row of pages. Her pages include bio, blog, books, extras media and contact details. This is among best author websites.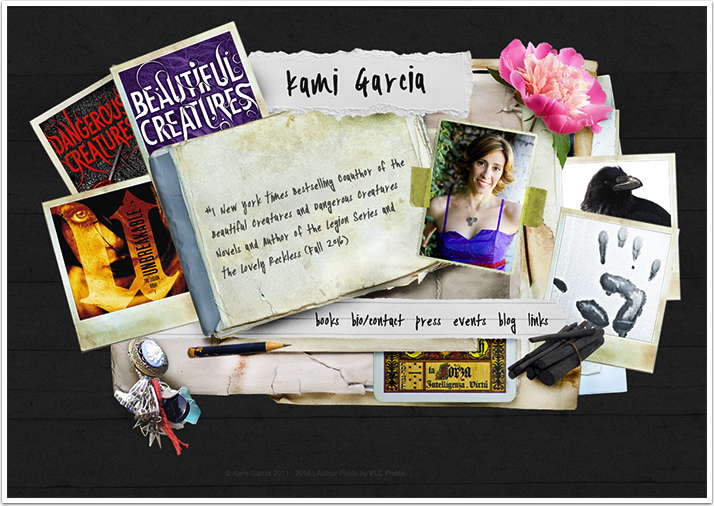 First I admit all the websites we wrote about here were simple and anyone can build it by modifying simple free themes. Kami's website on other hand is completely different. It is perfect for authors, photographers and professional of media-related fields. You need a web dev to make this kind of website. Overall it is modern, clean and responsive.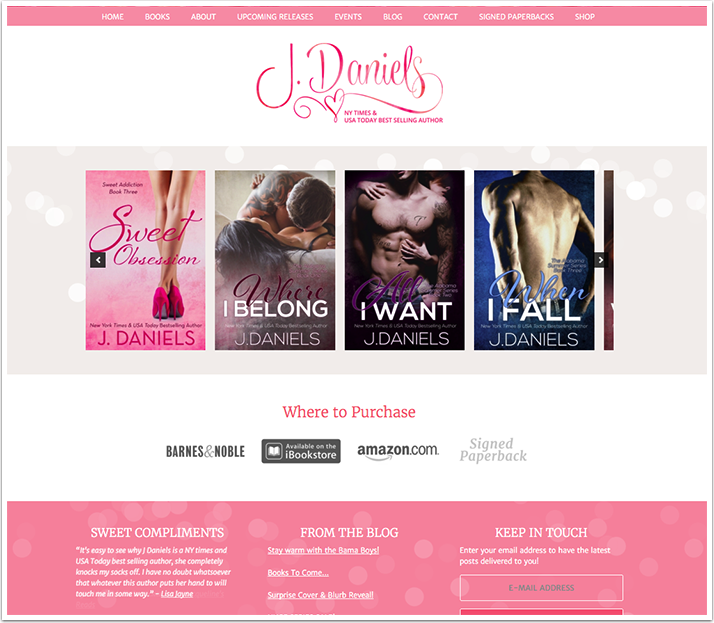 If your work is for female readers, pink is the color to choose as a website's main color. J Daniels site is a great inspiration for female authors who like to keep simple and feminine. A nice logo matching the website's color and a slider with links to books is all you need on a landing page.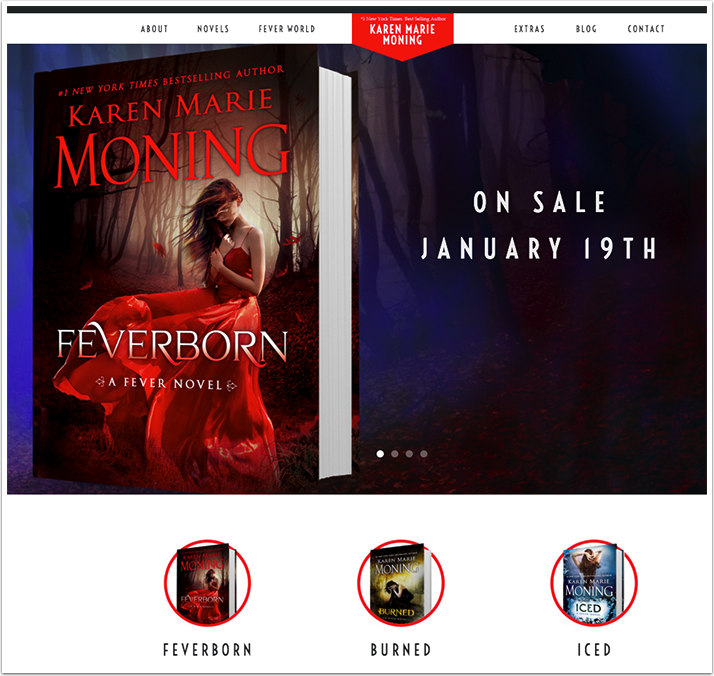 This landing page looks simple but in fact, there is so much creativity going on behind the scenes. The long size banner looks amazing to see and makes the user click on the best seller book. The row of pages is nicely done with the logo in the middle.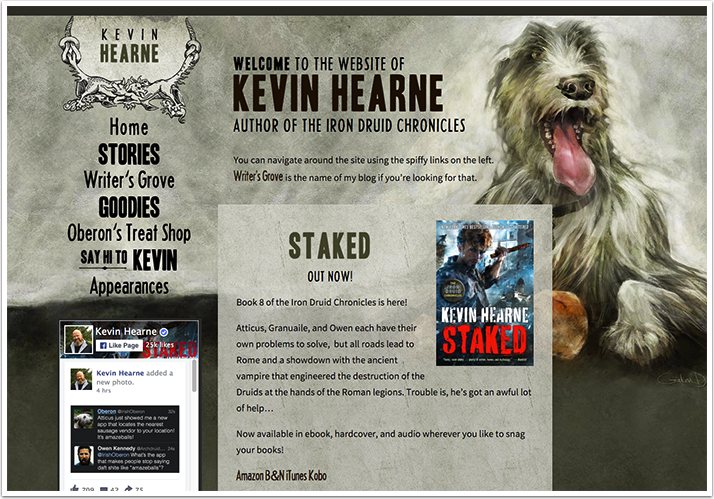 The background image of the website matters the most because it gives the first impression to the visitor. Any blurry, out of proportion image will ruin all elements of the landing page. Kevin puts a lovely pic of his dog and everything else is simple and eye-catching. Furthermore, the thing to notice is the Facebook sidebar on the left side showing authors recent activity on social media. This is in the list of best author websites.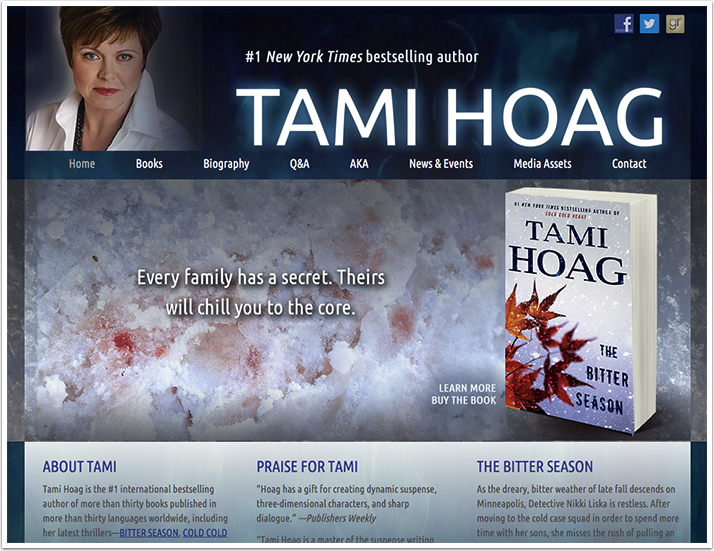 Tami Hoag novels are interesting so is the artwork on her books and website. Her website has a dark vibe with fonts with white. Overall it is a simple website with bestseller banner in the middle and author's bio information in the bottom.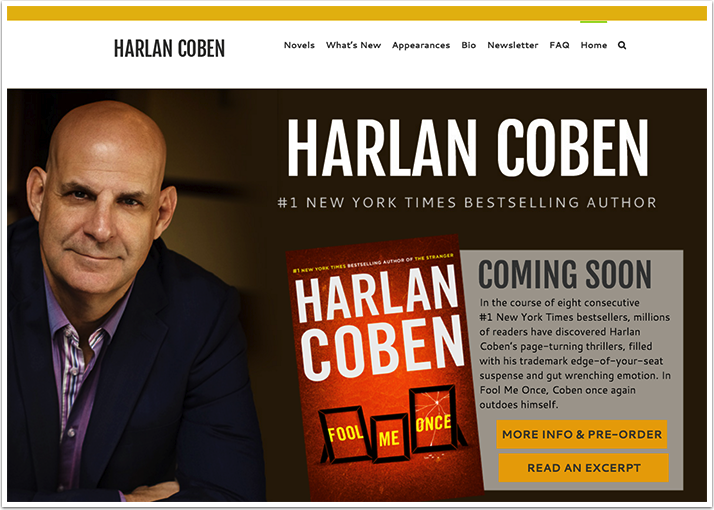 This is a very neat looking website with elegantly used fonts and colors. As you can see the author used a large self-photo and his best works on the right. You can easily create a landing page like this with the help of any page builder.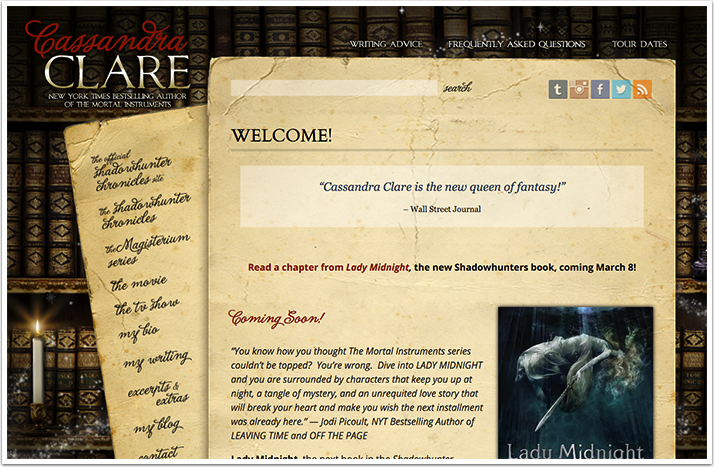 Are you an author of history or your work is vintage and classic? If yes, then this site can be a great portfolio however you may need a web dev skills to create something like this.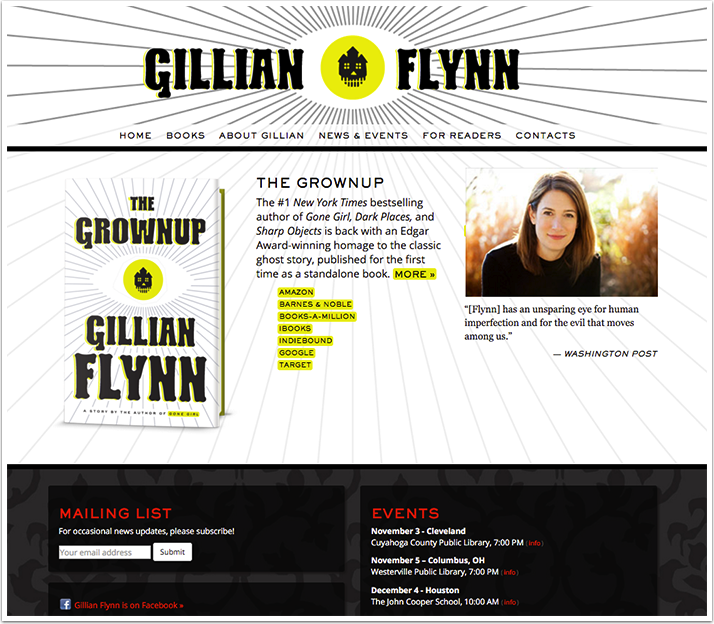 If your books artwork is cool enough and recognized by readers then it is a good idea to use similar artwork on the website. This is a female author's website and it can provide an inspiration for your next website. It is among best author websites.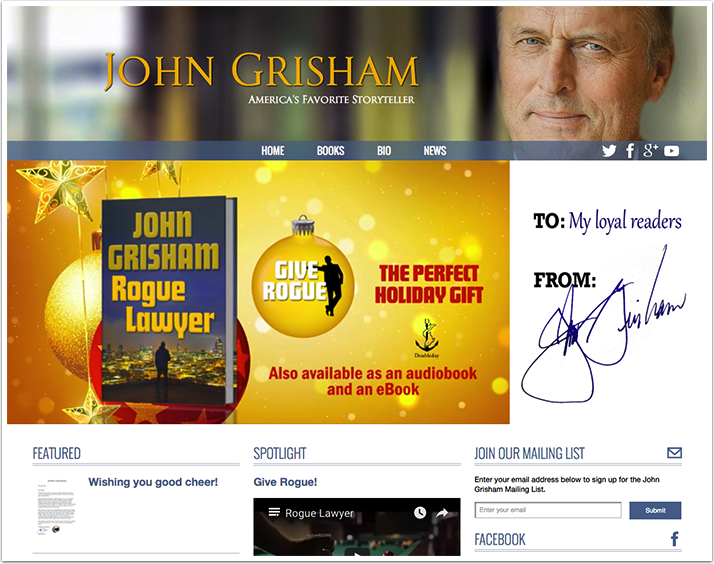 John Grisham is a top-notch writer and loved by many readers. He used simple colors for his website. Here you see a simple banner displaying the latest books. Overall it is a good modest website.
After Thoughts
These were some great looking best author websites which can provide inspiration for your future websites. Check out our more helpful guides to learn how to make your author website from scratch or about important ingredients to rank it on top of Google. Furthermore, you can contact us, our skillful team can help you design and market a perfect author website for you.